Are uneven teeth making you afraid to smile?
Invisalign could be the answer.
Invisalign is one of the most effective ways to get beautiful, straight teeth. And here at Hadleigh Dental and Cosmetics Centre we're proud to be a Platinum Elite Invisalign provider. We have helped hundreds of people achieve their dream smile with this world-renowned clear brace system.
Invisalign is often called a clear-brace treatment, because it uses see-through plastic aligners to gradually straighten your teeth. The main advantage is that they are practically invisible. The bad old days of embarrassing 'train-track' braces are long gone. Invisalign allows you to start smiling immediately without anyone knowing that you are undergoing teeth straightening treatment.
Get in touch for your Invisalign consultation and see what Invisalign can do for you.
FREE Invisalign Consultation
Visit our surgery in Hadleigh, Essex and we'll guide you through your Invisalign options. During your Invisalign consultation we'll be happy to answer any questions you may have: What is the price of Invisalign? How long does the treatment take?  Are there any financing options available?  Afterwards, we'll give you some time to think it over.
Invisalign Scan
Once you've had some time to make up your mind, we'll call you back in for an Invisalign scan. This is the exciting part. We'll create a 3D visual simulation of your teeth after Invisalign has worked its magic. Trust us, you'll be blown away by the transformation!  We'll hold onto the scan and, if you decide to proceed with the treatment, we'll use it to make your plastic aligners.
Confirm Treatment & Get Started
So, you've decided to go ahead with Invisalign? That's great news!  We'll arrange your payment and then order your first set of plastic aligners. These usually arrive within a week, so we'll arrange a fitting with our dentist as soon as possible.
Your Smile is Starting to show
Every fortnight, we'll send you a new set of aligners which you can fit yourself. As you go from set to set, your teeth are slowly guided into their target position. We will call you in for regular check-ups so we can keep an eye on your progress.
Final Aligners & Whitening
Now that you've got your dream smile, why not add a finishing touch by booking a tooth whitening session?  In fact, we'll throw this in for FREE as part of the Invisalign.

Comprehensive plan. Our final job is to give you a night-time retainer, and then you and your new smile are ready to go.
David is one of our patients. In our first appointment, he told us that his teeth were making him self-conscious about smiling and sometimes speaking. It wasn't ruining his life, but he would like to change it if possible.
David's front teeth were crowded, which made Invisalign the best course of treatment.  His treatment plan showed that the procedure would require 24 sets of aligners over the course of 12 months. During this time, we also tidied up a slightly misshapen tooth to complete David's new smile.
When the treatment was complete, David was given a free tooth whitening session to put the finishing touch to his happy new smile.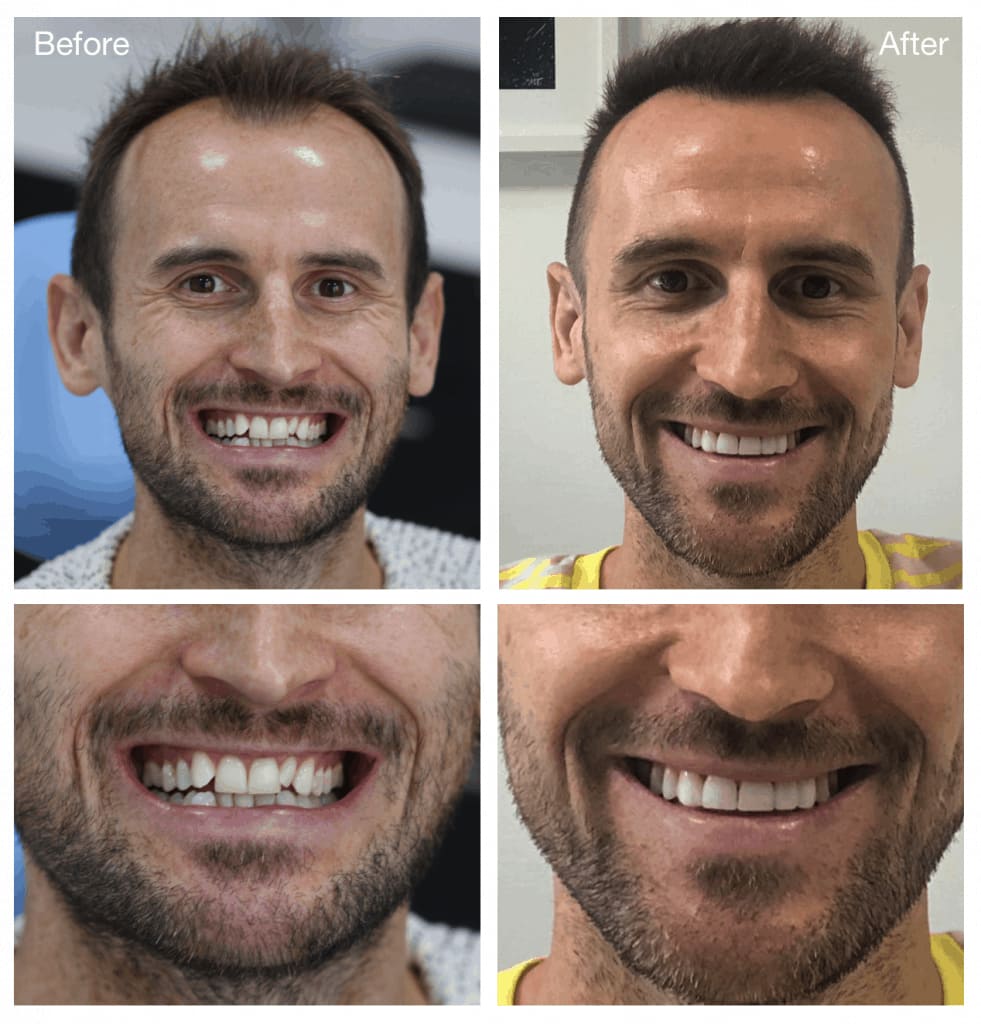 Invisalign Full
The original Invisalign treatment for larger cases which has no limits on the amount of retainers needed.
Invisalign Lite
Ideal for mid sized cases where the movement needed is moderate. Only 14 retainers are needed.
Invisalign i7
Ideal for smaller cases where the movement needed is minimal. Only 7 retainers are needed.
Making your visit

Comfortable
Every part of our spacious and modern dental practice is designed to make you feel comfortable and welcome. And judging by the glowing reviews we get from satisfied patients; it seems to be working. Why not pay us a visit and see for yourself?
When it comes to adult teeth straightening, you can't do better than Invisalign, and Hadleigh Dental and Cosmetics Centre is one of the top providers in Essex.