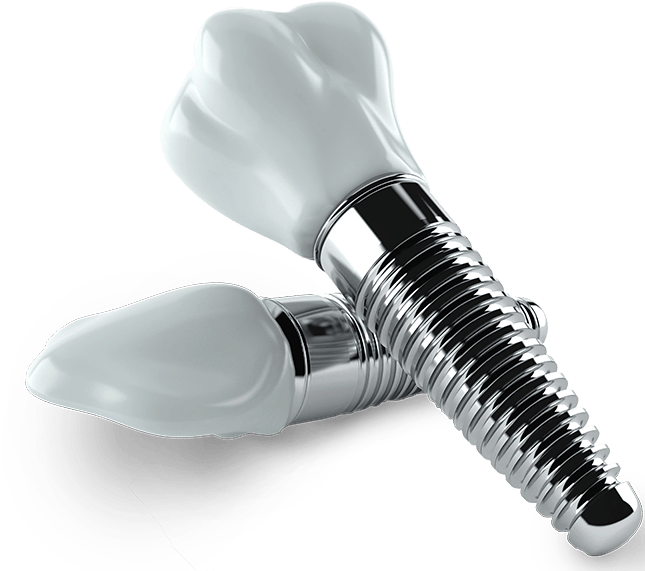 Missing teeth affect more than just the way you speak and eat? They can damage your confidence too.
If you've been suffering, dental implants could be the answer you have been looking for.
If missing teeth are causing you problems, dental implants could be the perfect solution.
Dental implants are fast becoming the most popular way to replace missing teeth. They permanently solve the problem of missing or damaged teeth by replacing them with a brand-new porcelain implant, specially designed to perfectly match your existing healthy teeth.
What are

Dental Implants?
Dental implants are comprised of two parts: an abutment and a dental crown.
In a dental implant, the abutment is a titanium screw which does the job of the root in a healthy tooth. It is fitted to your jaw in the same way that a natural tooth is attached.
The dental crown is the visible part of the tooth in a dental implant. It is specially designed to match your other teeth, and is attached to the abutment that fills the gap left by the missing tooth. These two parts are fitted together, leaving you with a permanent replacement that will last a lifetime.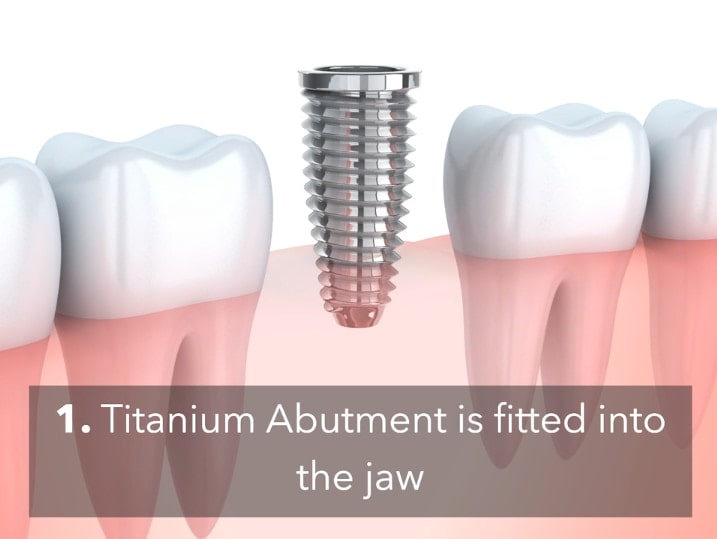 "How much are dental implants?" This is the question we hear most often from patients with a missing tooth. As you probably know, a dental implant is not a cheap solution. Prices generally start at around £2,000 for each tooth. But there are other things to consider. There are a lot of misconceptions about dental implants that lead people to believe they cost more than they actually do.
For example, if you have several missing teeth, you may still only need one complete dental implant. It may be possible to fit a dental implant bridge, where a single dental implant abutment is attached to the jaw and then a three-tooth implant bridge is fixed to it. This allows us to replace three missing teeth with a single dental implant.
More about

Dental Implants
5 Steps to Dental Implants
Dental Implant Consultation
Before you decide whether you want to proceed with dental implants, we will invite you to a half-hour dental implant consultation session. This allows you to get to know our friendly team of experts who will be glad to answer your questions. We will explain the ins and outs of the procedure and how much it is likely to cost. We may also perform an x-ray in order to give us a better idea of your treatment options.
Preparing your treatment plan
Once you've had some time to consider your options, we'll invite you back to meet your implantologist. They will perform a detailed oral examination, allowing us to offer you a bespoke treatment plan along with the timings of future sessions. Healthy gums and a clean mouth are essential for dental implants, so you may need to book a couple of sessions with our dental hygienist before treatment can begin.
Placement of your Dental Implant
During your next appointment, we will start the procedure by putting you under either local or general anaesthetic. We will make sure that you are comfortable, and we will numb the target area to make the procedure completely painless.
Your dentist will make a small hole in your jawbone in order to fix the abutment. The abutment is the part of the implant that the dental crown is attached to. We will then take a scan of your teeth and send it to our lab, allowing them to create a new porcelain tooth that will blend in seamlessly with the rest of your mouth.
After that, we're finished. All that's left is to wait for your jaw to heal around the abutment, which can take two to three months.
Fitting your new tooth
Once your jaw has healed, we'll arrange another appointment where we'll fit your new dental crown.  The fitting of your bespoke crown is painless, so you won't need any anaesthetic this time.
Final check
Finally, we will arrange a follow-up appointment. Here we will make sure that your mouth has successfully accepted the implant, and that your jaw and gums have healed properly.
Single Dental Implant Cost
Double Dental Implant Cost
Making your visit

Comfortable
Our spacious and modern practice is designed to be as comfortable and welcoming as possible. Judging from the positive feedback we receive from our satisfied patients, it seems to be working. Why not pay us a visit and see for yourself? Dental implants have the power to transform patients' lives completely, and  Hadleigh Dental and Cosmetics Centre is one of the foremost practices offering dental implants in Essex.